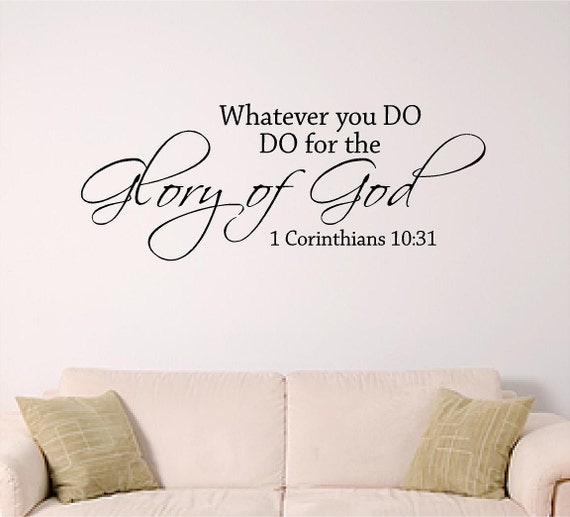 Whatever you Do, Do for the Glory of God. 1 Corinthians 10:31
This verse has been repeating in my head day after day. While I'm trying to shower, feed my young boys breakfast, get us all dressed, lunches packed and then conquering the day (where most days my boys come to work with me).
"How can I glorify God right now" I think. Paul is preaching about what new Christians should eat and drink compared to the old testament laws. His point is in whatever you eat or drink or even do should be to glorify God. We no longer need to follow the laws, but are called to glorify God.
So what is the "Glory of God"? We find in Isaiah 43:7 "everyone who is called by my name, whom I created for my glory, whom I formed and made.", that we are created to reflect God's image. We are to reflect God's image in all we do. God's glory is all he has created and who He is and He created us. In our day to day life we are called as Christians to reflect the image of God, so those around us can see the glory of God as we live out our lives.
Romans 3:31 tells us, "for all have sinned and fall short of the glory of God." Because we are sinful in nature we can not achieve this calling to reflect God's image without the help of the Holy Spirit. I pray every day for help to reflect God's image as I am called as a wife, mother and businesswomen.
Etsy Listing: Whatever you Do, Do for the Glory of God